PCA HISTORICAL CENTER
Archives and Manuscript Repository for the Continuing Presbyterian Church

Manuscript Collections :

Synthetic Collections :
---
RACE RELATIONS AMONG CONSERVATIVE PRESBYTERIANS IN THE 1960's
[as reflected in correspondence of
William E. Hill, Jr. and Donald A. Dunkerley]
Race Relations among Conservative Presbyterians in the 1960's

Racism, when examined, is found to be nothing more than the deification of self. It is a making over of God in one's own image, and as such it is also a sin that knows no bounds of color or national origin. As one example, consider Dr. Francis Schaeffer's brief 1943 article against anti-Semitism. In the United States, the greatest exhibition of racism has generally been against those enslaved in Africa and brought into this land as early as the 1560's, they and their descendants since.

Just recently, there has been some renewed questioning about the origins of the PCA and what racial views may have factored into the formation of the denomination. Since the PCA was formed by churches leaving the old Presbyterian Church, U.S. (aka, Southern Presbyterian), it should come as no surprise that among their number there would be those who were still trapped by their own culture. It would be sheer ignorance to expect otherwise. 

But what of the leaders who were working to form this new denomination? For one, they made a clear stand even before the denomination was officially formed, when in the Minutes of the Advisory Convention, they stated on page 27, under item 47, "All Races Welcome" that "It was resolved that the Continuing Presbyterian Church movement welcome fellow believers in Christ regardless of race."
Beyond these official statements, this where the value of an archives is shown, in preserving evidence that may speak more to the day-to-day working reality. What was life like outside the convention hall? For that we are particular grateful that the PCA has seen fit to maintain a denominational archives. The following two letters are offered in partial evidence. They do not paint the whole picture, but hopefully their content will answer some questions. 

Of the two letters displayed here, the first is from the Rev. Donald A. Dunkerley, writing to the Rev. William E. Hill, Jr. Rev. Hill then replies. The letters are dated late in 1971 and early in 1972. Rev. Dunkerley had been a pastor in New York before taking a call to serve as pastor of the McIlwain Presbyterian Church in Pensacola, Florida [1971-1980]. Rev. Hill was the founder of the Presbyterian Evangelistic Fellowship (PEF), a ministry which worked to bring reformation and revival in southern churches. PEF was one of four organizations which were particularly instrumental in the formation of the Presbyterian Church in America. 

In each of these letters, our interest will focus on the content of the second page. Dunkerley reflects on advice that he had received from another pastor in the northern Presbyterian Church, counseling him to avoid involvement with conservatives in the south. Dunkerley was not blind to racism by any means, but his experience ran counter to what might have been expected. A month later, Rev. Hill then replies (here again, see the second page) with some further insights into the situation as it existed in the late 1960s among conservative Presbyterians. He addresses in particular the situation at the influential Presbyterian Journal.
The Rev. Donald Dunkerley, writing to Rev. William E. Hill, Jr., letter dated 28 December 1971, page 1 of 2: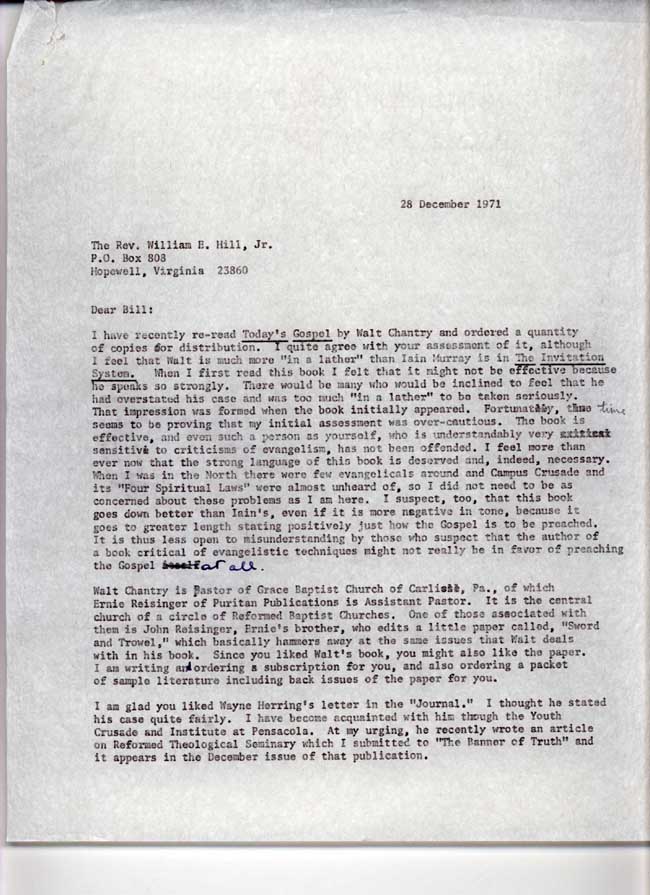 Dunkerley, page 2: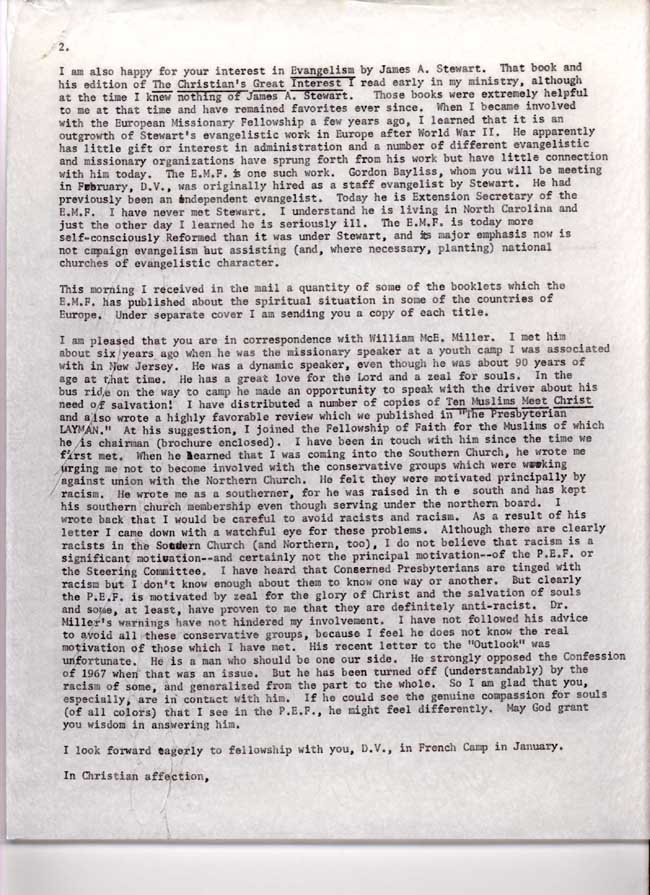 Response of Rev. William E. Hill, Jr., to Rev. Dunkerley, in a letter dated 3 January 1972: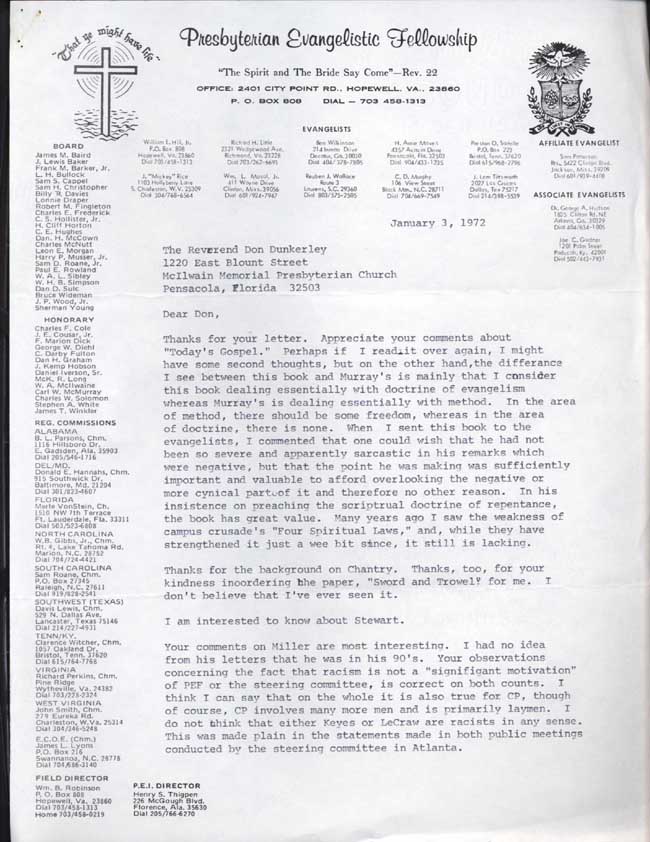 Letter of Rev. William E. Hill, Jr., page 2: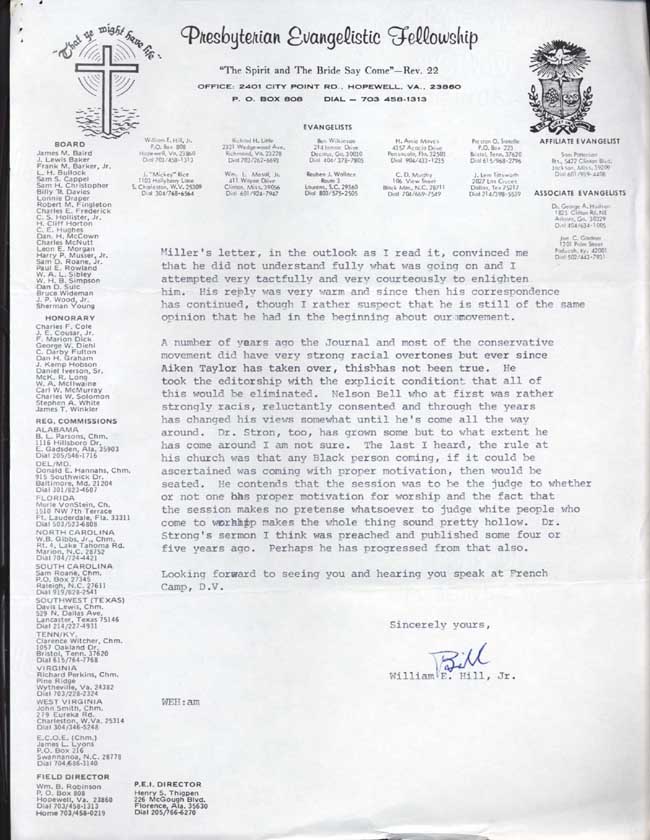 ©PCA Historical Center, 12330 Conway Road, St. Louis, MO, 2018. All Rights Reserved.