Robert Dick Wilson Papers
Manuscript Collection # 64
Box# es unprocessed at this time. Please check back.
Content Summary: Correspondence, writings, workbooks, materials from Princeton and Westminster Theological Seminaries.
Access Restrictions: None
Collection Citation: Robert Dick Wilson Papers, Box __, file __, PCA Historical Center, St. Louis, MO.
Obituaries and Tributes:


4NEW: "Groundless Attacks in the Field of Oriental Scholarship," The Bible Student and Teacher, 1.6 (June 1904): 356-360.

4Dr. Wilson's Inaugural Address upon his installation as as Professor of Semitic Philology and Old Testament Criticism at the Princeton Theological Seminary. [PDF only]
4"The Power of a Noble Example" (Westminster Seminary memorial bulletin) [document file]
4Allan A. MacRae's letter regarding Dr. Wilson's death [PDF only]
4Three Tributes to Dr. Wilson [Christianity Today, Dec. 1930]
4Robert Dick Wilson: Torchbearer, by Harold J. Ockenga
4Robert Dick Wilson--Defender of God's Word, by Oswald T. Allis

Bibliography of the Writings of Robert Dick Wilson
Collection Focus:
eBook: A Scientific Investigation of the Old Testament [1926]. Portions of this book are being posted as time permits.
4The Rule of Faith and Life, a PDF version of a paper by Dr. Wilson, in which he refutes the idea that the Old Testament canon was not completed until about the end of the first century A.D.
4A Hymn by Benjamin B. Warfield, from the service to install Robert Dick Wilson as Professor of Semitic Philology and Old Testament Criticism at Princeton Theological Seminary, 21 September 1900.
________________________

Allan MacRae's tribute to his mentor:
In a letter to Miss Minna Flentje, Berlin, Germany, dated 7 March 1931, Allan A. MacRae related the following:
"
I would have written you long before this but I have been extremely busy this year and up until this week I have written hardly any letters. Dr. Wilson died in October, only about two weeks after the Seminary opened. It was a great loss to us. I am certainly thankful that I came back to America when I did, for otherwise I would not have had any time as his assistant. My year of close association with him, assisting him in his work, was one of the great privileges of my life. He was a wonderful character. He had an extremely brilliant mind. I remember how highly Professor Sachau spoke of him when I visited him there in Berlin. The news of Professor Sachau's death reached here only two or three days before Dr. Wilson himself died. He was in the hospital and they did not like to tell him of the death of his old friend and teacher. Dr. Wilson was only ill about a week. He was blessed with excellent health during most of his life. The end came rather suddenly. I was up with him most of the last night although he never regained consciousness. We miss him greatly here in the seminary, but we are always grateful for the impression of his life and the example of his great accomplishments.
"
Finding Aid is normally located in folder number 1 of each box.
The finding aid reproduced here is temporary, subject to both change and further addition as processing continues.
| | | |
| --- | --- | --- |
| Subject | Box | File |
| Candidacy for Moderator of General Assembly, 1929, Newsclipping of 23 May 1929 | 806 | 2 |
| College of New Jersey, 1876, Final Grades of the Class of 1876 | 806 | 3 |
| Hodge, Caspar Wistar, undated, The Significance of the Reformed Theology Today [inaugural address given upon his induction as Professor of Systematic Theology at Princeton, 11 October 1921, typescript, 9 pages]. Subsequently published in Princeton Theological Review 20.1 (Jan. 1922): 1-14. | 806 | 4 |
| Machen, J. Gresham, 1928, Draft of [1] Proposed Statement of the Faculty of Princeton Seminary to the Board of Trustees and [2] Statement to the Seminary Committee of General Assembly [typescript, 8 leaves, including cover letter from J. Gresham Machen dated 31 August 1928 | 806 | 5 |
| Marsden, Robert Samuel, 1930, Review of 'Studies in the Book of Daniel,' 'A Scientific Investigation of the Old Testament,' and 'Is the Higher Criticism Scholarly?,' [typescript, 22pp.] | 806 | 6 |
| Obituary for Robert Dick Wilson, 1930, Newsclipping from The Toronto Globe, 22 October 1930 | 806 | 7 |
| Princeton Theological Seminary, 1900 - 1901, Catalogue [42pp.] | 806 | 8 |
| Princeton Theological Seminary, 1906 - 1907, Catalogue [84pp.] | 806 | 9 |
| Princeton Theological Seminary, 1926, Report of the Special Committee in the Matter Submitted by the League of Evangelical Students [typescript, 3 pp.] | 806 | 10 |
| Princeton Theological Seminary, undated, Faculty Letter to the Directors Affirming Support "under the present plan of the seminary" [typescript, 1 page, signed by Robert Dick Wilson] | 806 | 11 |
| Princeton Theological Seminary, undated, Friar's Dining Club, Song Sheet [1 page] | 806 | 12 |
| Shrader, J.F., 1932, Correspondence of 23 January 1932 regarding the settlement of the estate of Robert Dick Wilson [typescript carbon, 2 pages] | 806 | 13 |
| Sperling, Tod, 1930, What the Bible Has to Say Concerning the Authorship of the Pentateuch [thesis for Robert Dick Wilson, Course 224, Introduction to the Pentateuch, 13pp., signed] | 806 | 14 |
| The Presbyterian Messenger, 1897, Obituary for Mr. A.W. Wilson, father of Robert Dick Wilson [vol. 4, no. 38, 17 June 1897, page 6 and photograph on cover] | 806 | 15 |
| Wilson, Robert Dick, 1900, The Lower Criticism of the Old Testament as a Preparation for the Higher Criticism [Inaugural address upon his installation as Professor at Princeton] | 806 | 16 |
| Wilson, Robert Dick, 1900, Titles of the Persian Kings [typescript, 31 pages, 2 copies] | 806 | 17 |
| Wilson, Robert Dick, 1902, Babylon and Israel: A Comparison of Their Leading Ideas Based Upon Their Vocabularies [an address at the opening of the 91st session of the Presbyterian Theological Seminary at Princeton, 18 September 1902; reprinted from the April 1903 number of The Princeton Theological Review, pages 239-255] | 806 | 18 |
| Wilson, Robert Dick, 1902, Lost Meaning of Hebrew Roots, [Presbyterian and Reformed Review, April 1902, pp. 277-292, reprint] | 806 | 19 |
| Wilson, Robert Dick, 1906, Hebrew Prose Composition [Princeton, 47pp.; keyed to Gesenius' Grammar] | 806 | 20 |
| Wilson, Robert Dick, 1919, The Use of "God" and "Lord" in the Koran, [reprint of The Princeton Theological Review, October 1919, 8pp.] | 806 | 21 |
| Wilson, Robert Dick, 1920, The Names of God in the Old Testament [reprinted from The Princeton Theological Review, 18.3 (July 1920) 460-491. | 806 | 22 |
| Wilson, Robert Dick, 1922, Age of the Bible Told by Foreign Words It Contains, [stenographic report of an address by Robert Dick Wilson, reprinted in The Moody Bible Institute Monthly, December 1922, pages 147-151. | 806 | 23 |
| Wilson, Robert Dick, 1922, Fourth Day's Proceedings: External Testimony to the Old Testament, Part III, The Moody Bible Institute Monthly, March 1922, pages 896-898 | 806 | 24 |
| Wilson, Robert Dick, 1927, The Radical Criticism of the Psalter, [17pp.] | 806 | 25 |
| Wilson, Robert Dick, 1928, Foreign Words in the Old Testament  as an Evidence of Historicity, [reprinted from The Princeton Theological Review, 26.2 (April 1928) 177-247; signed, annotated];  Foreign Words in Biblical Hebrew, [typescript worksheets, eleven pages]  | 806 | 26 |
| Wilson, Robert Dick, 1928, The Rule of Faith and Life, originally printed in The Princeton Theological Review, 26.3 (July 1928) 423-450. [link is to a PDF version of this document] | 806 | |
| Wilson, Robert Dick, 1930, Introduction to the Old Testament, Lecture 1 [transcript, 4pp.; This series of lectures was transcribed from stenography taken by Winifred Thomas, daughter of W. Griffith Thomas, under the direction of Allan A. MacRae at Westminster Theological Seminary.  The lectures are from the Spring of 1930 and would have been among the last classes taught by Dr. Wilson. The linked transcript of Lecture 1 is in Adobe PDF format only, to preserve the original format of the transcript.] | 806 | 27 |
| Wilson, Robert Dick, 1930, Introduction to the Old Testament, Lecture 2 [transcript, 4pp.] | 806 | 28 |
| Wilson, Robert Dick, 1930, Introduction to the Old Testament, Lecture 3 [transcript, 4pp.] | 806 | 29 |
| Wilson, Robert Dick, 1930, Introduction to the Old Testament, Lecture 3, continued [transcript, 4pp.] | 806 | 30 |
| Wilson, Robert Dick, 1930, Introduction to the Old Testament, Lecture 4 [transcript, 4pp.] | 806 | 31 |
| Wilson, Robert Dick, 1930, Introduction to the Old Testament, Lecture 5 [transcript, 3pp.] | 806 | 32 |
| Wilson, Robert Dick, 1930, Introduction to the Old Testament, Lecture 6 [transcript, 5pp.] | 806 | 33 |
| Wilson, Robert Dick, 1930, Introduction to the Old Testament, Lecture 7 [transcript, 4pp.] | 806 | 34 |
| Wilson, Robert Dick, 1930, Introduction to the Old Testament, Lecture 8 [transcript, 5pp.] | 806 | 35 |
| Wilson, Robert Dick, 1930, Introduction to the Old Testament, Lecture 9 [transcript, 4pp.] | 806 | 36 |
| Wilson, Robert Dick, 1930, Introduction to the Old Testament, Lecture 10 [transcript, 4pp.] | 806 | 37 |
| Wilson, Robert Dick, 1930, Introduction to the Old Testament, Lecture 11 [transcript, 4pp.] | 806 | 38 |
| Wilson, Robert Dick, 1930, Introduction to the Old Testament, Lecture 12 [transcript, 5pp.] | 806 | 39 |
| Wilson, Robert Dick, 1930, Introduction to the Old Testament, Lecture 13 [transcript, 4pp.] | 806 | 40 |
| Wilson, Robert Dick, 1930, Introduction to the Old Testament, Lecture 14 [transcript, 4pp.] | 806 | 41 |
| Wilson, Robert Dick, 1930, Introduction to the Old Testament, Lecture 15 [transcript, 5pp.] | 806 | 42 |
| Wilson, Robert Dick, 1930, Introduction to the Old Testament, Lecture 16 [transcript, 4pp.] | 806 | 43 |
| Wilson, Robert Dick, 1930, Introduction to the Old Testament, Lecture 17 [transcript, 4pp.] | 806 | 44 |
| Wilson, Robert Dick, 1930, Introduction to the Old Testament, Lecture 18 [transcript, 4pp.] | 806 | 45 |
| Wilson, Robert Dick, 1930, Introduction to the Old Testament, Lecture 19 [transcript, 3pp.] | 806 | 46 |
| Wilson, Robert Dick, 1930, Introduction to the Old Testament, Lecture 20 [transcript, 3pp.] | 806 | 47 |
| Wilson, Robert Dick, 1930, Introduction to the Old Testament, Lecture 21 [transcript, 3pp.] | 806 | 48 |
| Wilson, Robert Dick, 1930, Introduction to the Old Testament, Lecture 22 [transcript, 4pp.] | 806 | 49 |
| Wilson, Robert Dick, 1958, External Testimony to the Old Testament [extracts from addresses delivered at a Founder's Week Conference in Moody Bible Institute, reprinted in The Gospel Witness and Protestant Advocate, 20 February 1958, pages 711-713] | 806 | 50 |
| Wilson, Robert Dick, undated, Hebrew Word Lists for Deuteronomy [n.p., 23pp.] | 806 | 51 |
| Wilson, Robert Dick, undated, Notes on Green's Pentateuch [handwritten notes, in pencil, 16pp.] | 806 | 52 |
| Wilson, Robert Dick, 1922, Is the Higher Criticism Scholarly? [Philadelphia: The Sunday School Times, 62pp.] | 806 | 53 |
| Westminster Theological Seminary, 1929, Minutes of the Temporary Organizing Committee, 25 July 1929 [3pp. + cover letter by Roland K. Armes] | 806 | 54 |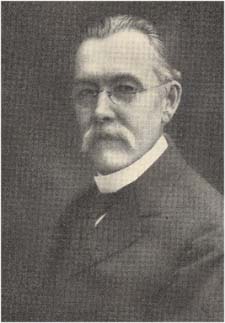 Robert Dick Wilson [1856 - 1930]