Robert Waldo Chesnut
[1858-1953]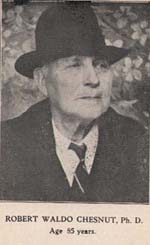 Pastor of the Reformed Presbyterian Church of Duanesburg, NY
[this church is now in the PCA] from 1910-1917 and Moderator
of the Reformed Presbyterian Church in North America, General Synod
in 1903 and 1943.
Reprinted here is a brief biography which originally appeared in The Reformed
Presbyterian Advocate, April, 1953 (Vol. 87, No. 4), pages 40-42.
Biographical Sketch:
On March 23, 1953 at 8:35 P.M. our Church was deprived of its Pastor Emeritus by the death of Rev. Robert W. Chesnut, Ph.D. He was 94 years, 6 months, 8 days old when he passed on to be with his Lord. Dr. Chesnut had been Pastor Emeritus since his retirement from the active ministry in 1942 after 55 years as a minister. In 1950 he attended his last meeting of general Synod, at the Houston Mission. In November of 1952 he reported to work on the new church, bringing his hammer and lunch pail. He worked from 9 A.M. to 3 P.M. He later said: "I guess I pounded two or three pounds of nails and it helped some." He was constantly interested in the new church and did all he could to advance its construction. The third edition of his autobiography, with some changes and improvements, will be published posthumously within a few days. The proceeds from the sale of this book will be, as he desired, used for the construction of the new church."
Robert Chesnut was born on a farm near Morning Sun, Iowa, on September 15, 1858. His parents had emigrated from Glasgow, Scotland. His father was a boilermaker."
"He had very little formal education in elementary or high schools. He never attended school during his early years for more than three months at a time. Until his entrance into college he had attended school only a total of twenty months.
In 1869 his family emigrated, by covered wagon, to Kansas and settled in Clay Center. There Dr. Chesnut, his father, and his brothers engaged in farming.
He did not want to enter college or the ministry and, he has reported, fought the call of God to the ministry for some time. Finally one day, plowing in the fields (and he had not enjoyed good health for many months) he stopped his horses, sat down on a plowbeam and settled the matter with God. He said: "Lord, if you will give me health and see me through my education I will serve you in the ministry." He finished the day's plowing without being fatigued and God has kept His part of the covenant by blessing His servant with good health and length of days. Anyone who knew Dr. Chesnut knows that he kept his part of the covenant too, serving his God and his beloved Reformed Presbyterian church for sixty or more years.
He entered the Agricultural College of Kansas, at Manhattan, with a trunk containing a few clothes, his Psalm book, his Bible, and his Catechism, and $45 cash to see him through. He paid his way through school by raising a crop of wheat each Summer and selling it in the Fall. He also earned a little extra by tutoring his fellow students in Greek.
His college training was continued and completed at the University of Kansas, at Lawrence.
For theological training he spent a summer studying under his pastor, Rev. James S. Scott and entered the Reformed Presbyterian Seminary in Philadelphia the following term as a second year student.
He completed the course and was licensed to preach on March 22, 1887 in the First Reformed Presbyterian Church in Philadelphia.
He was ordained on May 10, 1888 and installed the same day as pastor of the Reformed Presbyterian Church at Marissa, Illinois. The church is no longer in existence. Dr. Chestnut had been called to a church in New York City, but declined the call because he thought that he, a farm boy from Iowa and Kansas, would not be suited to a city pastorate. After sixteen years in Marissa he went to the church in Cutler, Illinois. In 1910 he accepted a call to the Reformed Presbyterian Church in Duanesburg. Here he served as pastor and worked the parsonage farm until 1917. He then moved to the Seventh Reformed Presbyterian Church in Philadelphia and remained two and one-half years. He then returned to Duanesburg, to save the congregation from disbanding. It was, at that time, a small and discouraged flock in need of a shepherd. From 1919 until his retirement in 1942 Dr. Chesnut served here as Stated Supply, worked the parsonage farm (and another larger farm which he purchased from his meager earnings) and ran a printing plant.
For forty years he served as Editor and Publisher of the Reformed Presbyterian ADVOCATE (although it was not always known by that name). He also served as Moderator of the Philadelphia Presbytery. he served General Synod as Assistant Clerk, as Clerk, and as Moderator, and on several boards and committees.
Dr. Chesnut is survived by his widow, Mrs. Anna Heim Chesnut, who is his third wife. In 1885 he was married to Jennie Hulick, who died in 1896. Their daughter and son died while in their youth. His second wife and an infant also died--the wife just five weeks after they moved to Duanesburg in 1910. Dr. Chesnut is survived by three children, thirteen grandchildren, and one great-grandchild. His eldest daughter, Grace, is married to Mr. Walter Goaring and lives in Marissa, Illinois. Their children are: Thelma (Mrs. Joseph Ercole) whose husband is a plumber, living in Marissa, have a daughter, Lorene; Robert, who is married and lives in Marissa and works in the mines; Lorene (Mrs. Treve Wainscott) who lives in Sparta with her husband, who is with the state forestry service. Edith lives near Duanesburg. Her husband is Mr. J. Ward Fidler and their four children are : Robert, who is studying for the ministry at Houghton College; George, who is taking basic training now in the Air Force at Sampson, New York; Dora, who is studying dietetics at the State Agricultural Institute at Cobleskill, New York; and Paulina, who graduates from high school this June. Waldo and his wife (the former Bessie Ogden) have six children: Waldo, Jr. has just returned from Army service in Korea, is married to the former Phyllis Gordon and works with his brother on the family farm; Allen runs the family farm; Arlene is studying at Green Mountain Junior College; Roberta attends Geneva College; Robert and Carole are in the Duanesburg Central School.
The Duanesburg congregation, and the whole of the Reformed Presbyterian Church, has suffered a loss by the passing of our friend. But we can have no regreats, for he lived a long and full life and we are assured that he has gone to glory to be forevere with his Lord, where there is no more pain, no sorrow, no struggle with sin, no more death, where death is swallowed up in victory.
May we add three tributes to Dr. Chesnut that have reached by mail since his death:
"Truly a Prince has fallen in Israel. How he did love to come to General Synod ans we have missed him these last few years. He really loved to preach the Gospel. Many lives have been touched by his long years of service." [Rev. Robert W. Stewart]
"I just heard about Dr. Chesnut's death last Tuesday. We are all going to miss him very much."
[John A. Hocanson]
And this poem by Lansing Christman, a resident of the Duanesburg area, which was published in the Washington (D.C.) Evening Star on February 4, 1943. It was written as a tribute to Dr. Chesnut at the time of his retirement from the active ministry.
SERMONS IN THE FIELDS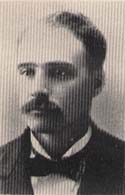 Robert W. Chesnut
at the age of 45
He loved that level Western land, the plains;
But when he came to minster for the men
And women who wrung their living from the thin
And stony acres of these Eastern hills,
He grew to love this land as well.
He was a farmer, too, and found sermons
In the very furrows his own plow turned
To frosty November days, and drying April suns.
And so he preached to those who knew
The firmness of hills and their warmth,
There were lean years, but it was his wish
To serve God and His people, to comfort
And console those whose weathered faces
Revealed the wear of years in suns and rains.
For half a cnetury he took his place
Each week in the pulpit of the old country church
Where elm leaves brushed the steepled roof,
Where summer winds brought in the weetness
Of the fields, the clear sharp cold of winter
Touched the colored windows with silvered ice.
He was eighty-four when he retired--
Even then he would not leave the land, the earth,
His hilly pastorate he had grown to love,
Hills and people whose friendliness and songs
Bring him the softest music for his quiet hours.
[Reprinted from The Reformed Presbyterian Advocate, April, 1953 (Vol. 87, No. 4),
pages 40-42.]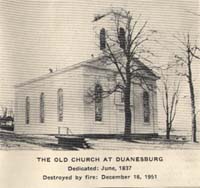 The Old Church at Duanesburg
Dedicated: June 1837
Destroyed by fire: December 16, 1951
©PCA Historical Center, 12330 Conway Road, St. Louis, MO, 2007. All Rights Reserved.